2020 was a transformative year for Shockbyte. We achieved the highest customer satisfaction levels ever in the history of our company, and have taken our greatest leaps forward yet.
Today, Shockbyte is the largest game server host in Asia Pacific, and one of the largest game server hosts in the world, having hosted more than 250,000 servers for more than 200,000 customers, and growing.
In 2020 we were featured in several publications including The Verge, Fast Company, Computer Weekly and TechRadar, and presented at the OVHcloud Ecosystem Experience.
We're committed to providing the best service possible, and in 2020 we have taken our greatest step forward.
---
Our New Mission Statement
This year we truly realised our mission, and our vision for the next decade and beyond.
Our mission is to make it easy and affordable for anyone to operate any kind of internet service at any scale.
Major Customer Support Improvements
In October, we wrote about the major improvements we have made to our customer support system and response times.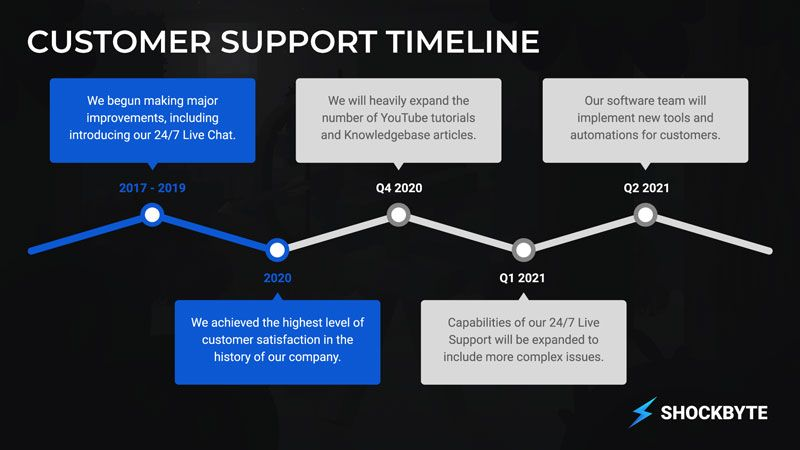 In 2020, we:
Launched a second support chat, specifically for in-depth technical support
Re-structured our support teams in order to scale faster
Significantly expanded our customer support team (join us!)
Increased compensation for employees across the board
Implemented a fully-fleshed HR Department
Produced hundreds of new knowledgebase articles and YouTube video tutorials
Achieved an average customer rating of 4.6/5.0 as of September 2020
Speaker of the OVHcloud Ecosystem Experience
This year, Shockbyte's Managing Director, Mitch Smith, was invited to speak at the OVHcloud Ecosystem Experience (previously known as OVHcloud Summit). You can watch the replay below.
How Shockbyte became a leading Minecraft server provider
Shockbyte for Education
This year presented a unique challenge with an increasing need to keep everyone connected through technology.
Teachers have found themselves with the difficult challenge of staying connected with their students and educating them from home. As a result, parents and teachers have found themselves with the difficult task of continuing to educate without the formal environments found in the classroom.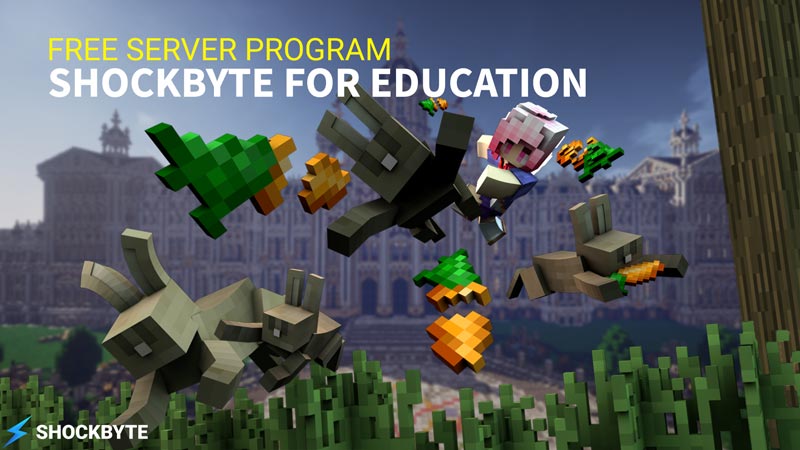 In response to this, we launched the Shockbyte for Education program in partnership with OVHcloud and the Open Solidarity initiative. Shockbyte for Education is a program where we provide free Minecraft servers to educators and is designed to assist the education and youth sector in their efforts to provide education through distance learning.
The Shockbyte for Education program allowed us to support 2696 students and 49 educators including club organizers, and youth development institutions.
Shockbyte Community Event: Christmas Build Competition
In December 2020 we ran our first community event - a festive themed build competition with lots of fun prizes. Throughout the event, hundreds of players joined and built amazing creations.
The event has ended, but you can view all the creations on the interactive 3D Map: https://map.shockbyte.com/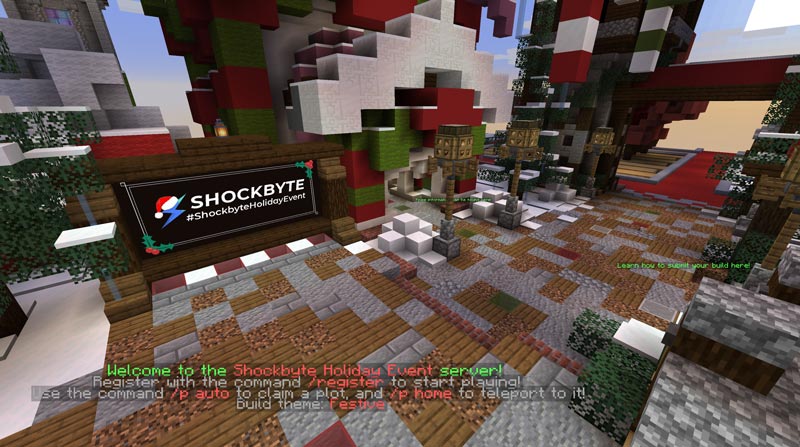 Gift Cards
In December 2020 we launched Shockbyte Gift Cards - and they have already been a smashing success. Shockbyte Gift Cards are redeemable for any services on Shockbyte.com, and are the perfect gift for any gamer.
Paving the way for a bigger 2021
2020 was our biggest year yet, but we have even bigger plans for 2021. The extreme growth we experienced, improvement of our service, and the reputation we earned in 2020 have created new opportunities for us in 2021.
Everything we achieved in 2020 would not have been possible without the foundation built by our incredible staff team and the support of our customers.
We now have a team of 30 amazing people that I get to work with every day. I am immensely grateful that they have chosen to work at Shockbyte.
We have big plans and a bright future ahead. We are very excited for what 2021 has in store and we'd love to share this journey with you!
If you're interested in gaming and server hosting, please consider joining our team: https://shockbyte.com/jobs
What do you want to see from Shockbyte in 2021? Let us know in the comments below!