If you're on the lookout for the best Minecraft skins around, then you're in the right place. We searched through the deepest depths of the internet to put together this exhaustive list of skins, filled with awesome designs as well as characters we all know and love. So whether you're looking to roleplay, impress your friends, or level up your Minecraft character, we've got you covered.
Browse the themes:
Superheroes
Marvel Cinematic Universe
This global phenomenon introduced the world to a massive list of somewhat unknown characters from Marvel Comics, like the Black Panther and Captain Marvel. It allowed us to fall in love all over again with characters we already knew, like Spider-Man and the Hulk. With 23 films packed with awesome heroes, villains and people that fall somewhere in between (looking at you, Loki), there's a lot of characters and Minecraft skins to choose from. We've put together the 30 we like best!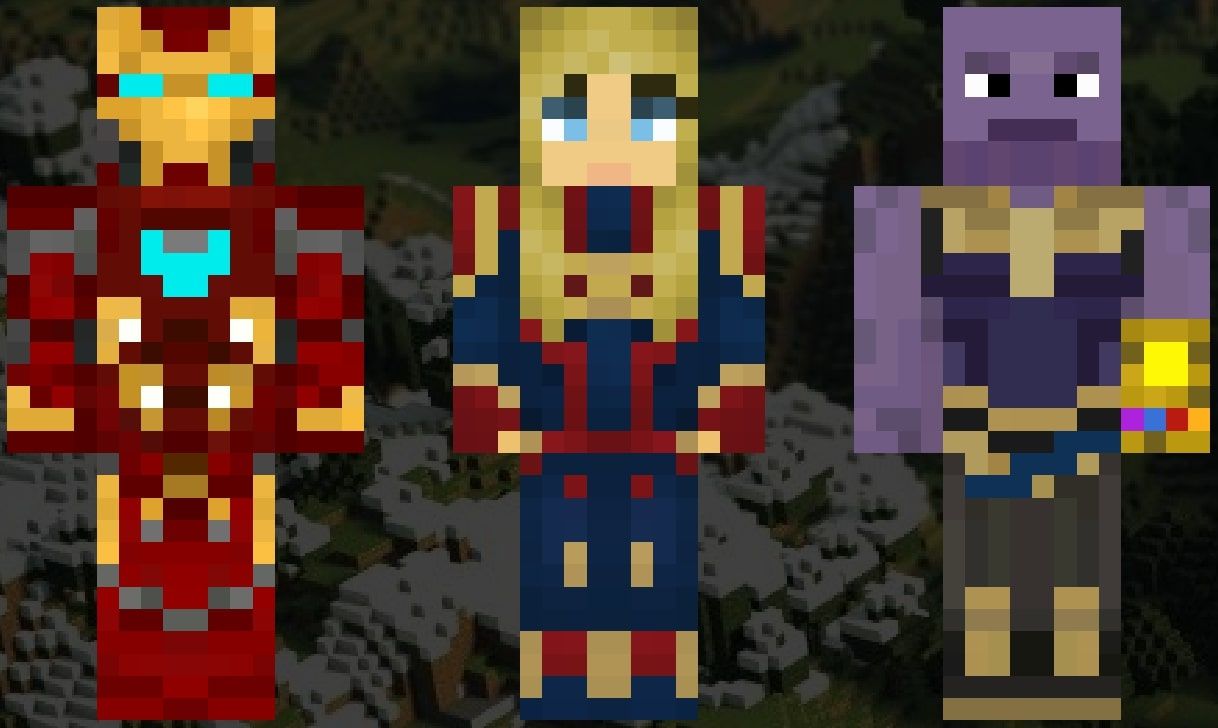 Spider-Man │ Captain Marvel │ Iron Man │ The Hulk │ Scarlet Witch
Thor │ Groot │ Black Panther │ Mantis │ Drax
Rocket Raccoon │ Hawkeye │ Black Widow │ Ant-Man │ The Wasp
Nebula │ Gamora │ Captain America │ Vision │ Doctor Strange
Quicksilver │ Falcon │ Loki │ Starlord │ Thanos
Hela │ War Machine │ Mysterio │ Killmonger │ Heimdal
DC Comics
DC Comics have some of the most known characters in television and film history, including Superman, The Joker, and of course Batman. In contrast to the Marvel Cinematic Universe, a lot of DC's ventures onto the big screen bring us gritty, dark, complex characters so if you're looking for a more mature but still superhero-themed Minecraft skin, there's plenty to choose from.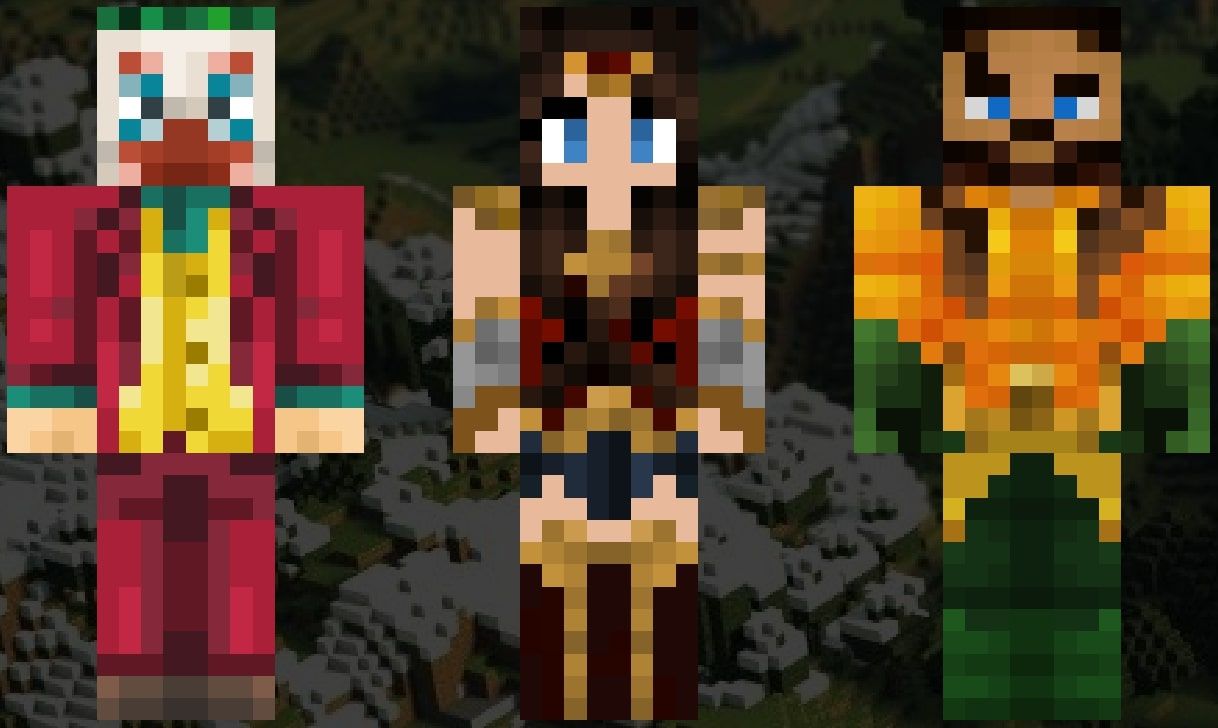 Superman │ Batman │ Wonder Woman │ The Flash │ Green Lantern
Aquaman │ Robin │ Catwoman │ Shazam │ Supergirl
The Joker │ Bane │ The Riddler │ Harley Quinn │ Two-Face
X-Men Universe
Everyone's favourite team of mutant superheroes, led by Professor X. Owned by Marvel and created by Marvel founders Stan Lee and Jack Kirby, X-Men boasts some of the most known heroes in modern cinema including Wolverine and Deadpool. There's so many brilliant characters in and around the X-Men universe, but we've narrowed it down to our favourite 15 Minecraft skins of the X-Men and their enemies.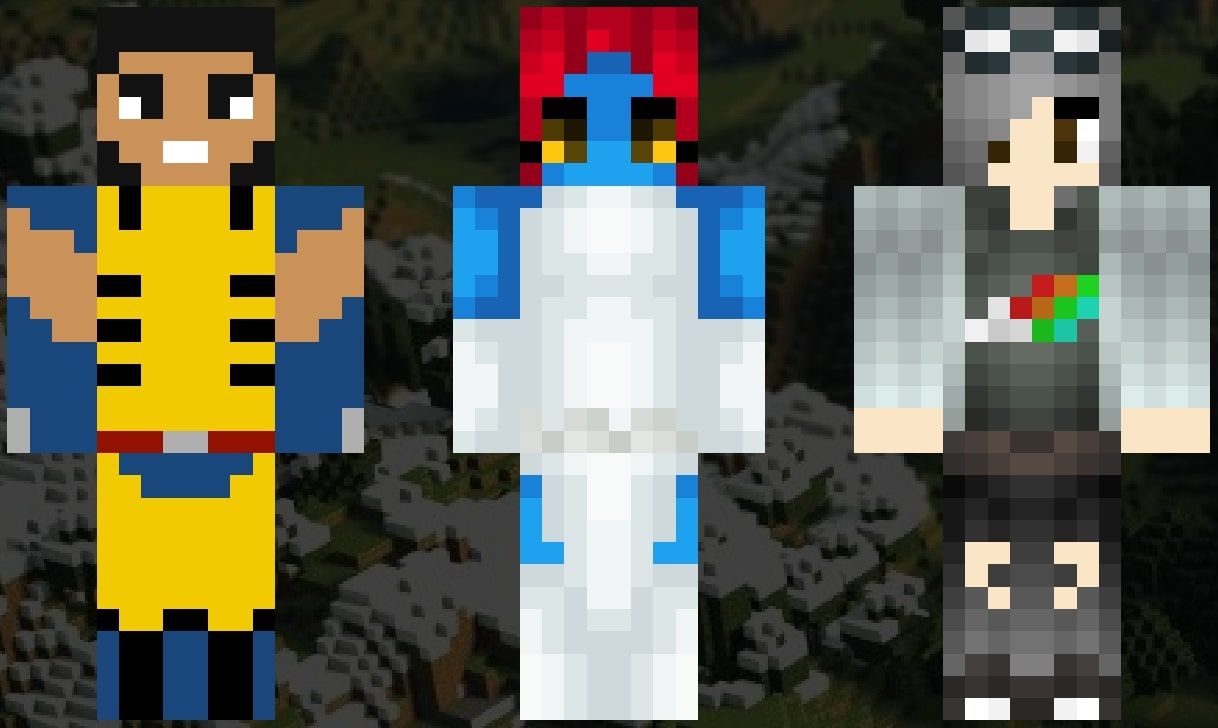 Wolverine │ Deadpool │ Mystique │ Jean Grey │ Rogue
Quicksilver │ Storm │ Cyclops │ Beast │ Magneto
Colossus │ Juggernaut │ Professor X │ Nightcrawler │ Iceman
We at Shockbyte think you might also be interested in:
Star Wars
A long time ago in a galaxy far, far away we were introduced to the weird and wonderful universe of Star Wars. If by a long time we mean about 40 years, and if by far away we mean at the local movie theatre.  This fun sci-fi cowboy movie gave us incredible characters like Darth Vader, C-3PO, and Yoda. With such a massive universe full of characters to choose from we've put together our favourite 25 Star Wars Minecraft skins for you to use!
Darth Vader │ Luke Skywalker │ Han Solo │ Princess Leia │ Obi-Wan Kenobi
Yoda │ Baby Yoda │ Stormtrooper │ Chewbacca │ R2-D2
Rey │ Boba Fett │ Kylo Ren │ C-3PO │ Darth Maul
Admiral Ackbar │ BB-8 │ Jar Jar Binks │ Finn │ Snoke
Ewok │ Poe │ Rose │ Ahsoka Tano │ Palpatine
Harry Potter and Fantastic Beasts
The wizarding world is full of fantastic and magical characters as well as flying cars, chocolate frogs, and three-headed dogs! But it's not all about playing quidditch or hiding beasts in a briefcase; there is evil to be reckoned with. We've put together 15 of the best Minecraft skins including heroes and villains from the wizarding world including plenty of fan favourites.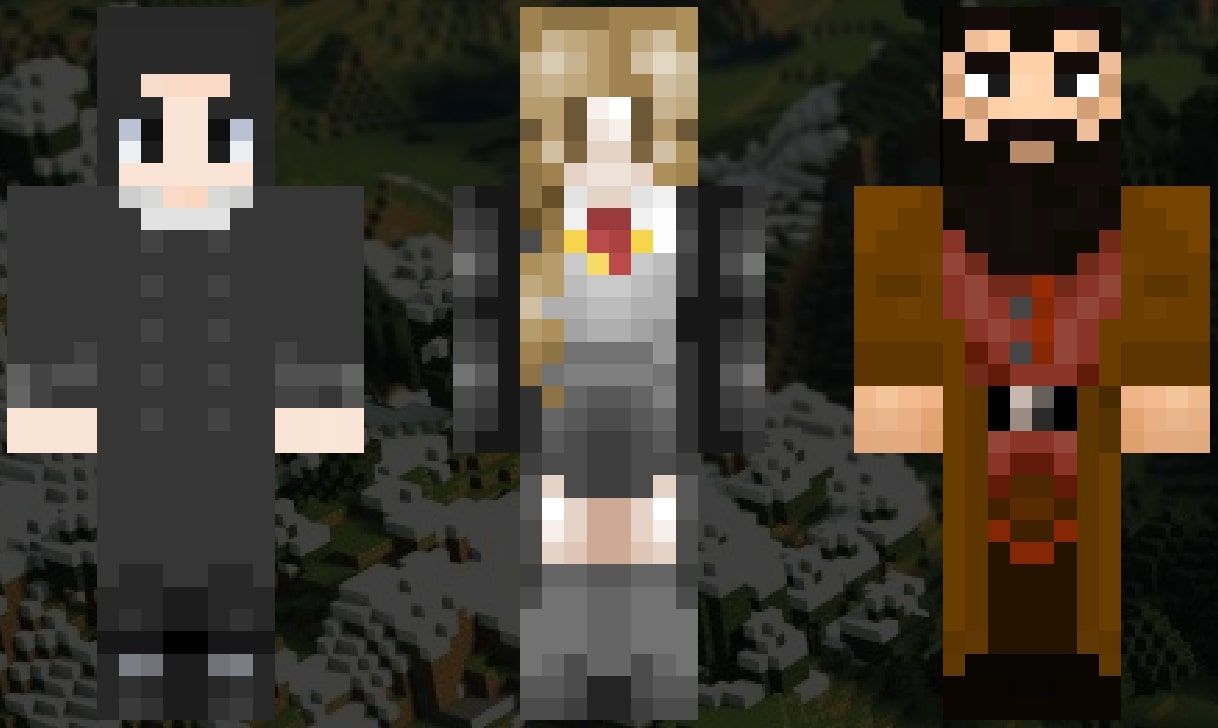 Harry Potter │ Ron Weasley │ Hermione Granger │ Hagrid │ Dumbledore
Snape │ Voldemort │ Draco Malfoy │ Luna Lovegood │ Dolores Umbridge
Dobby │ Neville Longbottom │ Newt Scamander │ Grindelwald │ Credence
Disney Princesses
Disney has some of the oldest and most well-known characters in all of cinema, from Snow White who was first introduced to our screens way back in 1937 to Moana who we first saw in 2016, and the leading ladies often steal the show. For this list we haven't strictly limited ourselves to actual princesses; we've broadened the meaning to include characters like Tinkerbell and Lilo! With that said here are our 20 favourite Disney Princess Minecraft skins.
Ariel │ Mulan │ Megara │ Jasmine │ Belle
Tiana │ Pocahontas │ Cinderella │ Lilo │ Snow White
Aurora │ Rapunzel │ Merida │ Elsa │ Anna
Moana │ Tinker Bell │ Alice │ Jessie │ Eilonwy
Professions / Jobs
There are so many job options to choose from so it was really tough to narrow it down to just ten but we did it. We've chosen these ten based on their fame as professions and of course how cool the skins are!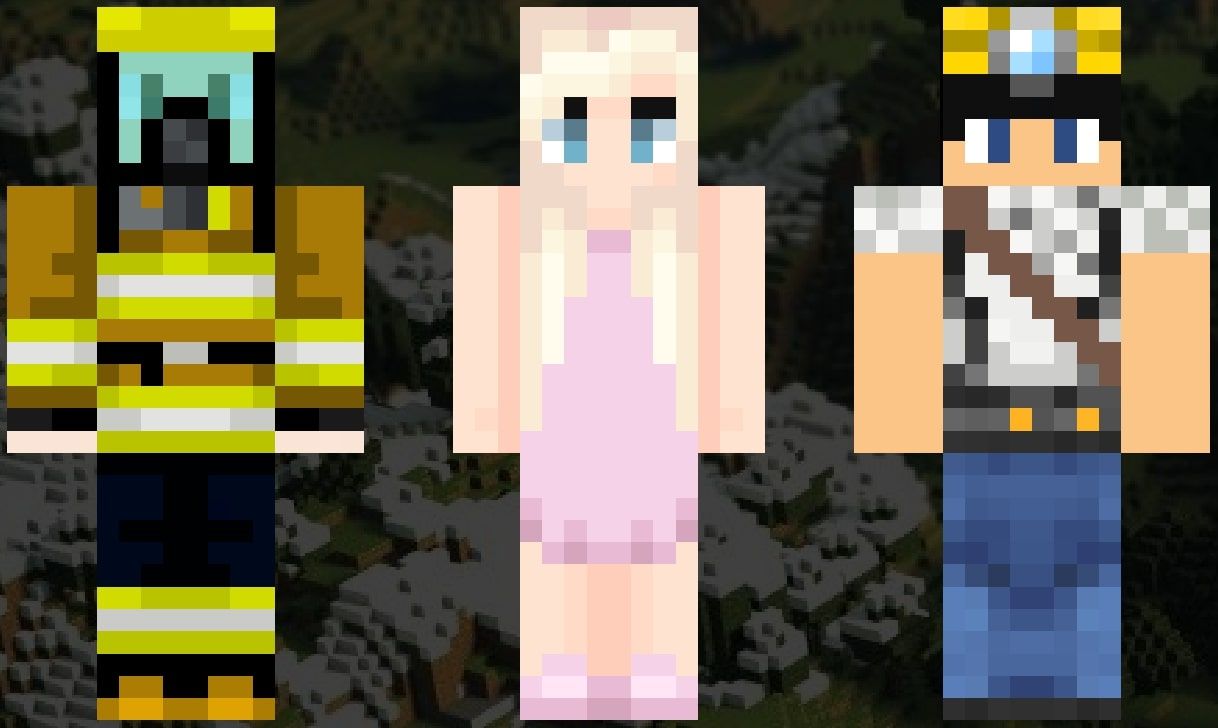 Firefighter │ Doctor │ Crazy Scientist │ Rockstar │ Miner
Pilot │ Astronaut │ Chef │ Ballet Dancer │ Builder
Video Game Characters
There are A LOT of awesome video game characters. They've made us cry, laugh, scream, and so much more. With such a huge amount of awesome characters to choose from across a wide range of genres, it was tough to create a list short enough to include! We're not including more than one character per game franchise (Sorry, Luigi). This helped us narrow it down to just 15 characters based on their impact, aesthetic, story, and of course, the quality of the Minecraft skin.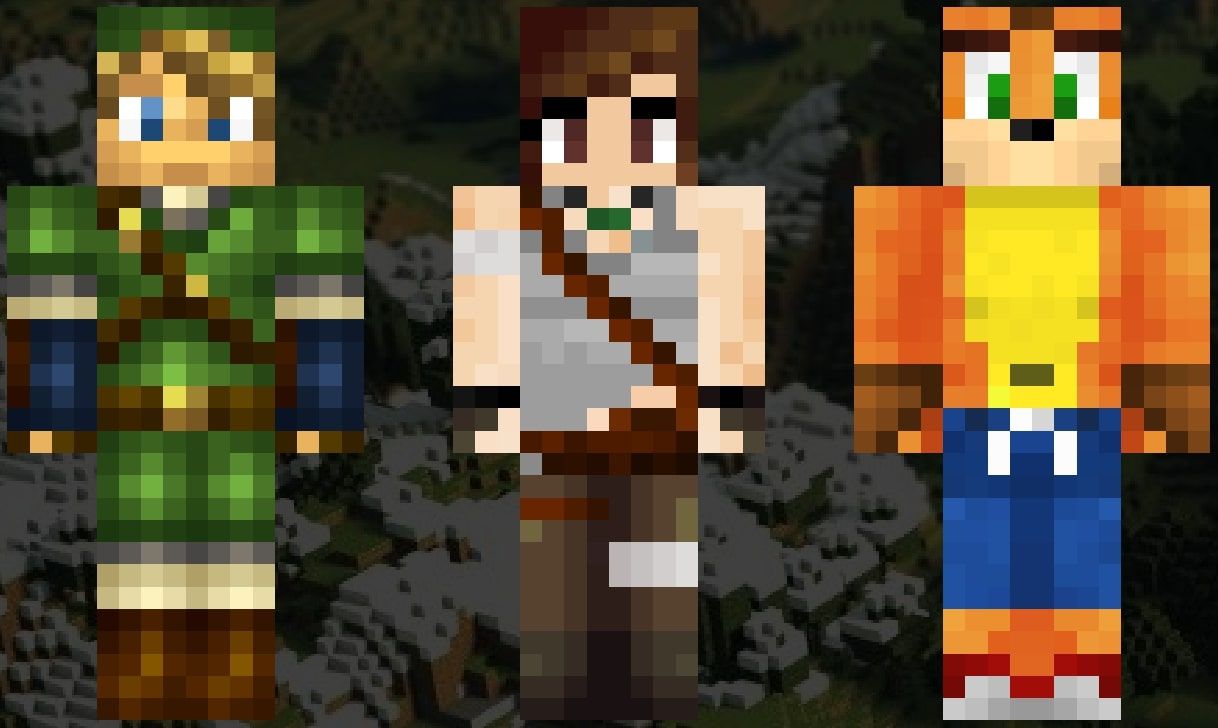 Master Chief │ Mario │ Lara Croft │ Link │ Sonic
Ezio │ Vault Boy │ Spyro │ Banjo │ Scorpion
Kratos │ Crash Bandicoot │ GLaDOS │ Isabelle │ Jinx
Holidays / Seasonal
Christmas, Halloween, and Easter are our favourite times of the year to dress up, and that includes in Minecraft! Help yourself get into the seasonal spirit by choosing a Minecraft skin to match.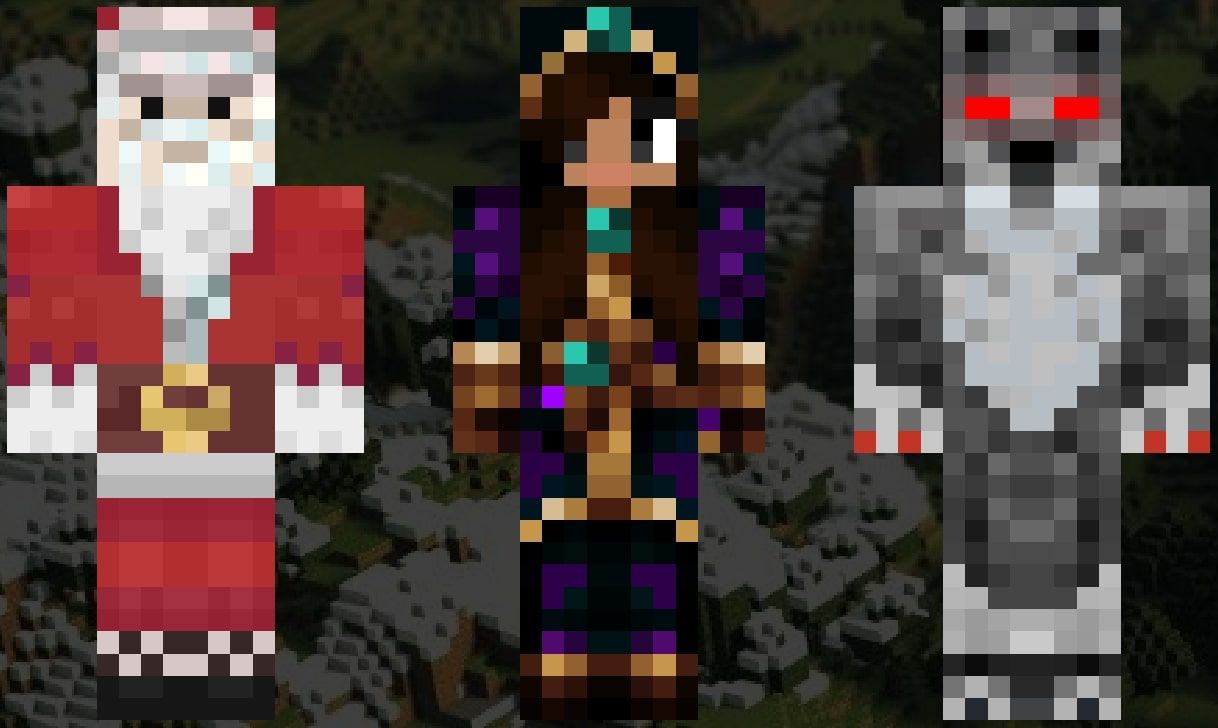 Santa Claus │ Mrs Claus │ Boy Elf │ Girl Elf │ The Easter Bunny
Witch │ Mummy │ Werewolf │ Vampire │ Ghost
That's all the skins we have for you at the moment. We'll continue to update this list as people release new awesome skins, so be sure to check back!

Looking for a Minecraft server to play with your friends while showing off your fancy new skin? Take a look at our hosting options.