Shockbyte is attending the 70th Insomnia Gaming Festival in Birmingham as a featured guest on the convention floor! Look forward to meeting with the Shockbyte team and discussing gaming servers for your friends and community throughout the event! If you're looking for a way to monetize your community, or somewhere for your global friends to collide, trust a Shockbyte server!
After Shockbyte's recent appearance at a multitude of events including GDC and Gamescom Asia, we are looking to get on the convention floor and talk to the 500k customers who we recently celebrated having purchased servers with us. We're eager to talk to the any of millions of gamers who have played on Shockbyte servers throughout the years and learn everything to improve: whether that be customer support, or modding capabilities.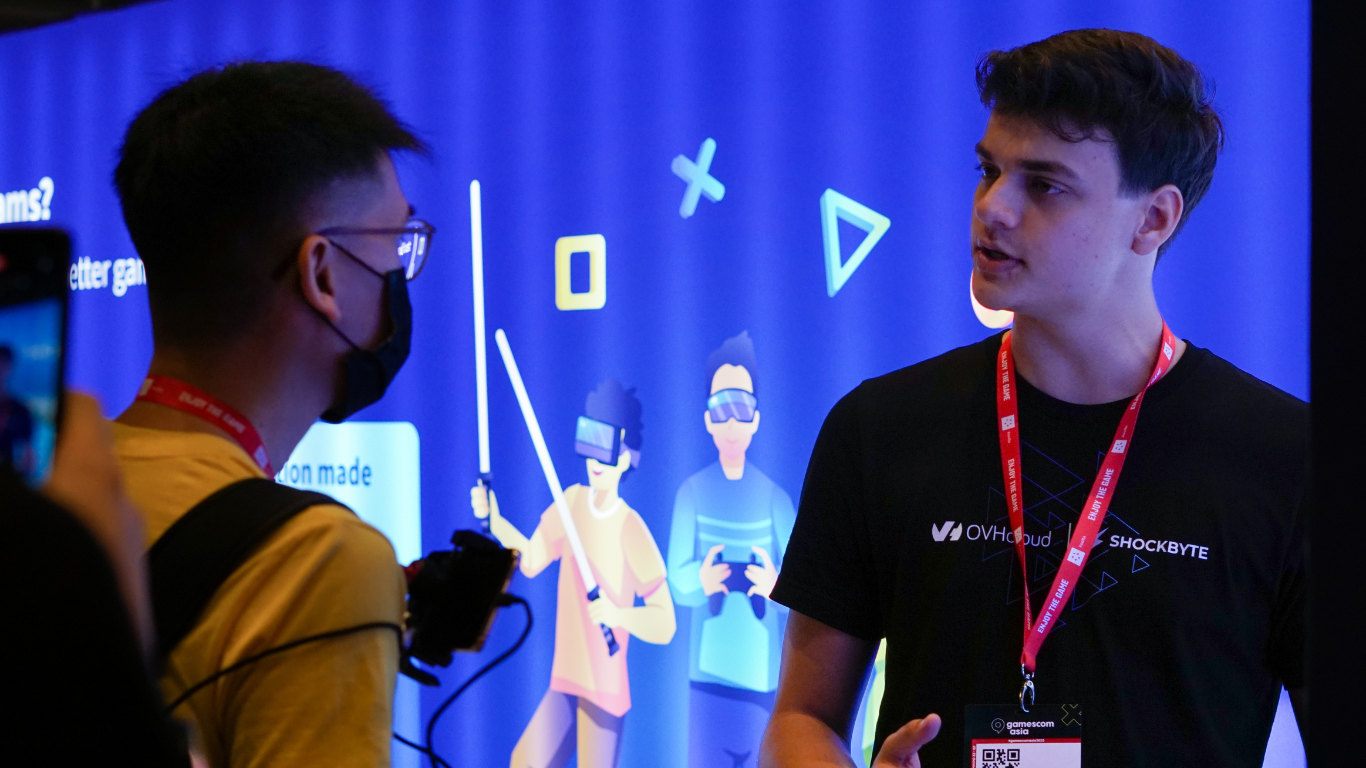 Shockbyte's Community
Shockbyte is eagerly looking forward to being on the ground shaking hands with gamers and content producers learning about all your individual server hosting needs from game to game; whether that be something we provide for a title already or for a title we currently don't! Be sure to visit our booth at the Insomnia Gaming Festival to interact with the Shockbyte team and pickup some exclusive swag!
We'll also be interacting heavily online as we approach the event, active on across our socials and even appearing on the Insomnia featured brands page! Catch us on TikTok throughout the event regularly making updates from the convention floor for all those fans who couldn't attend! We'll be doing a small at-convention themed giveaways as well, so look forward to that!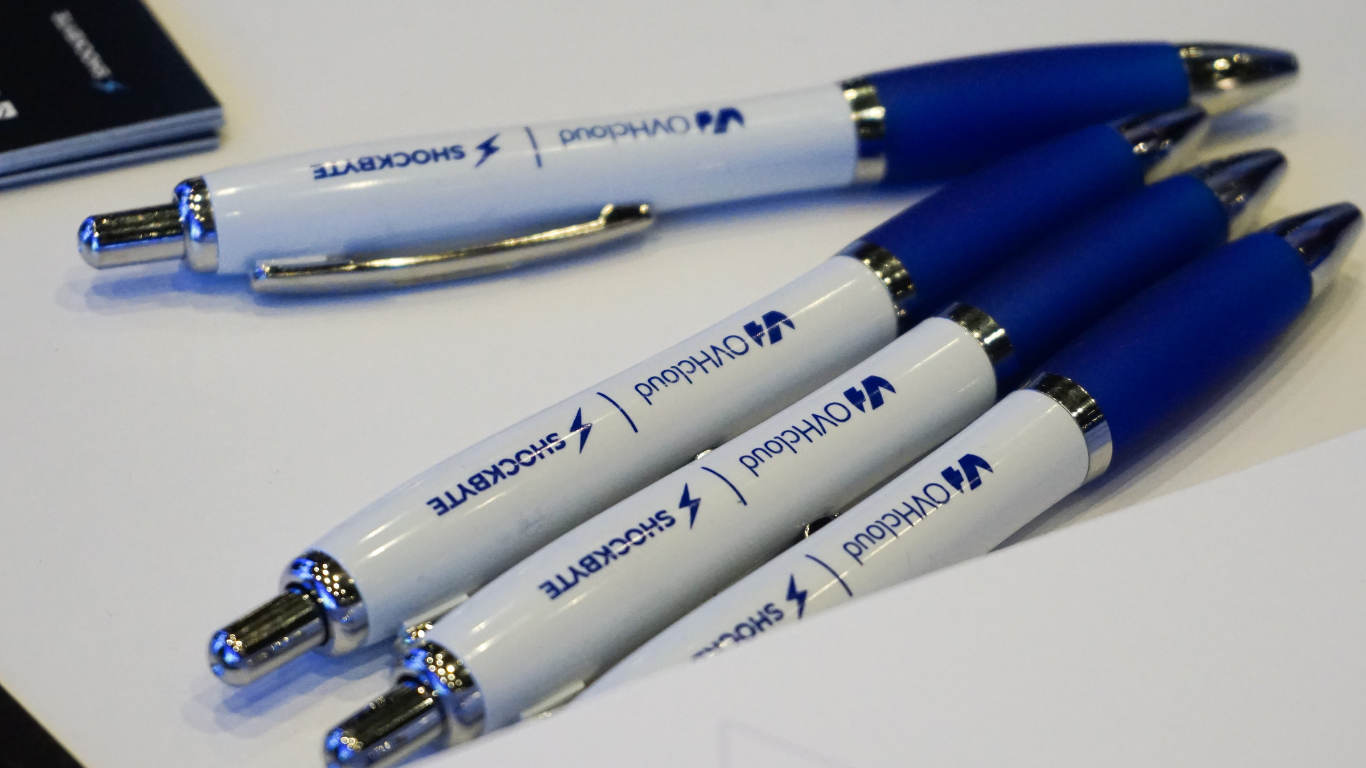 Different Kinds of Conventions
While Shockbyte has previously attended Gamescom Asia and now GDC in California, these two conventions are primarily focused towards other large companies in the gaming sphere (or game developers at minimum for GDC). Instead, the Insomnia Gaming Festival is focused on who Shockbyte deals with most, you, the gamers. We're looking forward to meeting with hundreds of likeminded gamers out there interested in hosting their own player-owned servers with Shockbyte after the convention.
With over 30 million gamers having played on Shockbyte servers, we're eager to meet and recruit as many more as we can to join the movement. During our time at GDC there were many participants who were already familiar with Shockbyte servers on a personal level and we're hoping to see the same level of being a household name at Insomnia.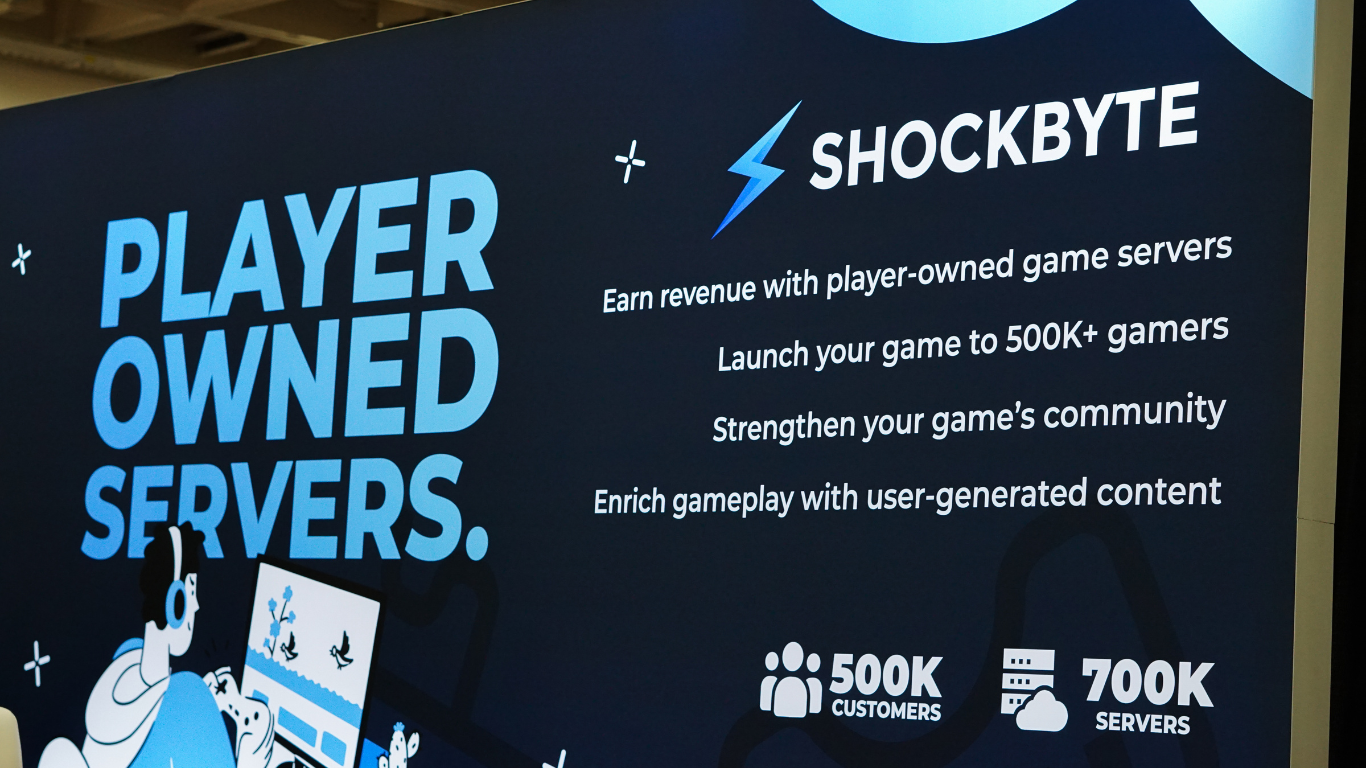 The Goal of Attending Insomnia
The goal of attending conventions such as GDC was simple: we aren't selling servers because these are developers looking to talk about their games, not about gaming right now. We attended those events to persuade developers to choose Player-Owned-Servers as their multiplayer connection choice, not only so that we would be able to support their growth, but because it puts control of multiplayer back into the hands of the gamers.
With Insomnia rolling around, we're eager to remind longtime fans of Shockbyte about our massively expanding library of games, including more than a handful of titles that were recently added. Only this year has Shockbyte added Arma 3 Server Hosting, and Assetto Corsa server hosting to our massive collection of options. If you're more of a Minecraft fan, you'll be pleased to hear that Shockbyte has been quick to update to Minecraft's 1.19.4 release, including allowing experimental gameplay options.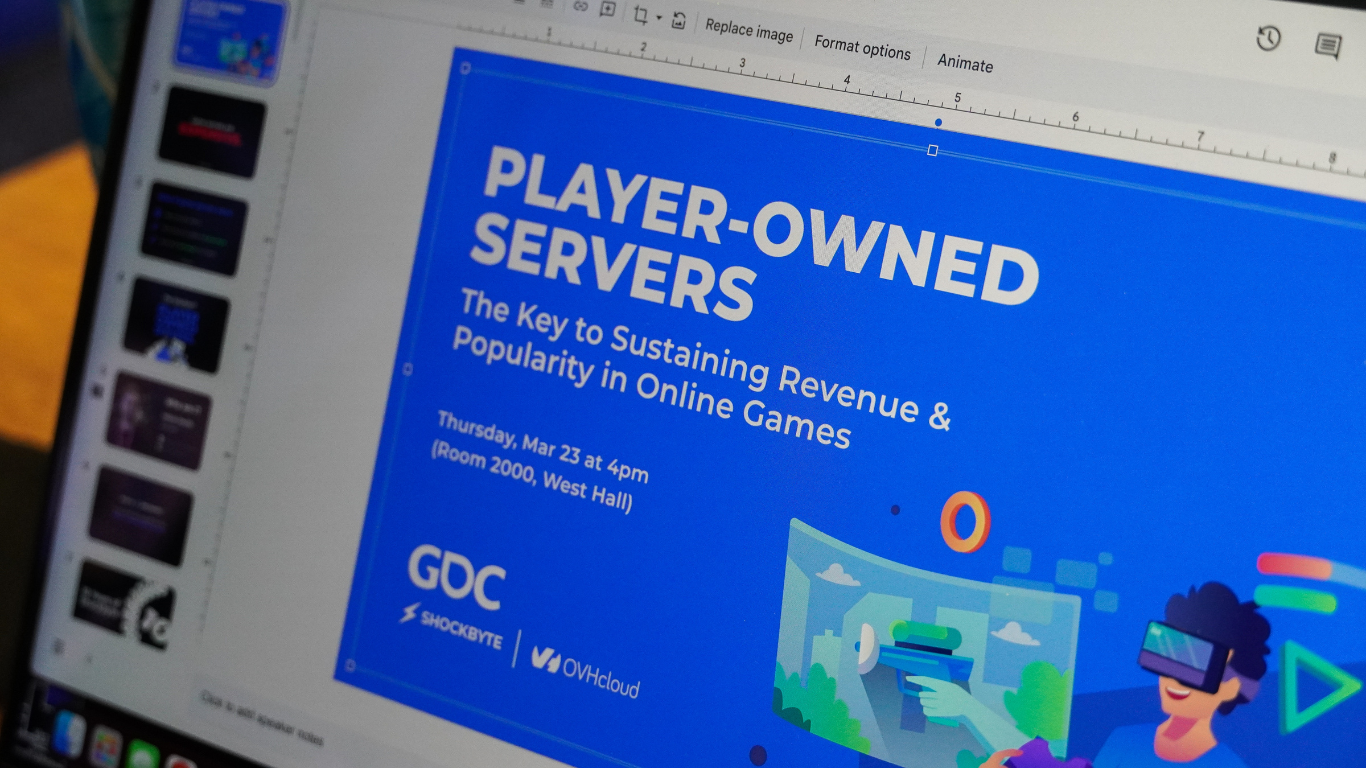 Stop by for some Shockbyte Swag!
At GDC we sported a wide selection of Shockbyte swag, from some sleek Shockbyte pens to nice Shockbyte tote bags to carry everything in! At every convention one of the best pieces of swag to get is a new lanyard to replace the default one you receive when you buy your ticket, and Shockbyte proudly provides exactly that! With the help of our booth partner OVHcloud, we were able to provide exclusive USB charging batteries, tumblers, computer cases and more as well.
We're eager to see you on the Insomnia convention floor as one the many growing Shockbyte gamer family! Let's get you decked out in the appropriate Shockbyte attire now too!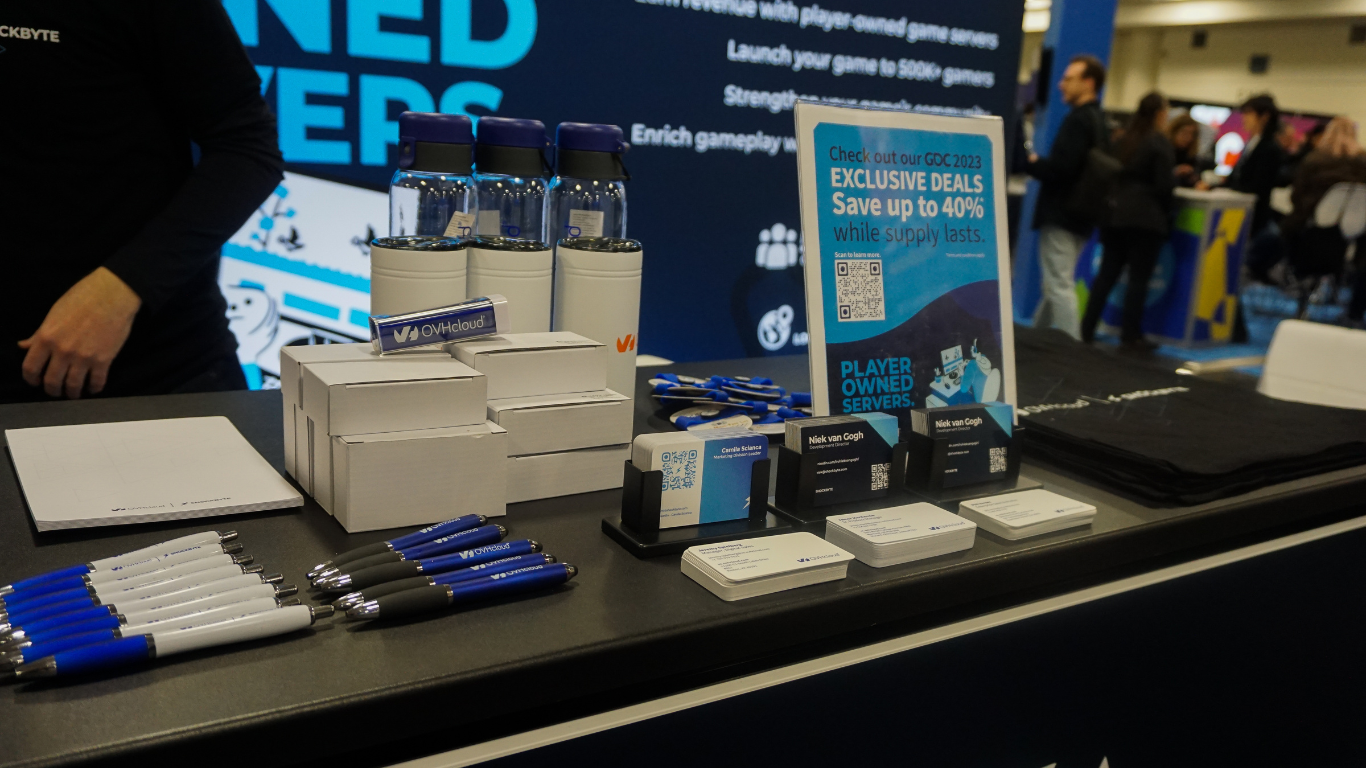 About Shockbyte
Shockbyte is a game server host for Minecraft, ARK, Rust and more.
Do you want to start your own Minecraft server? Click here to view our Minecraft server hosting plans.