We are overwhelmingly grateful for the growth Shockbyte has seen since it was founded in 2013. In previous years, customer support was an area that proved to be a challenge for us. However, we have made great strides towards achieving a support system that is the fastest and most helpful in the industry.
Since it is Customer Support Week, we want to highlight the journey of our support system and dive into everything we have done to make that happen.
Our goal is to provide high-quality customer service in an efficient and timely manner. Achieving this goal has always been a challenge, particularly during times of fast growth. We have learned a lot along the way and we are still innovating and pushing the limits of what we can do every day.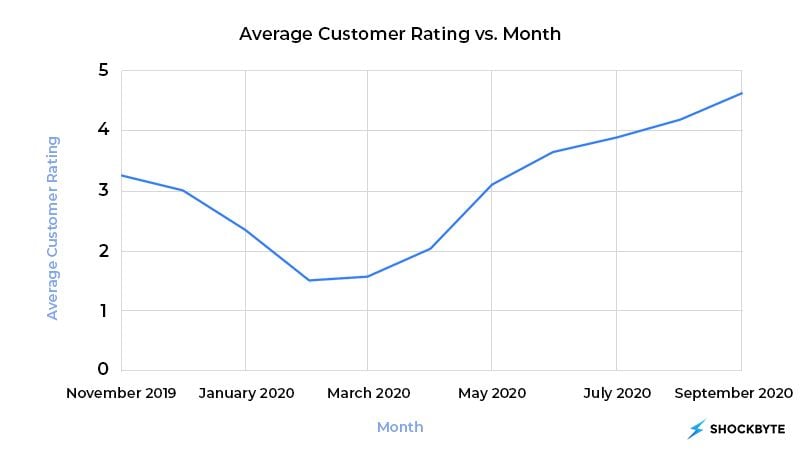 In September 2020, we achieved the highest number of five-star customer reviews we have ever seen in our history of operating. We achieved an average rating of 4.6/5.0 in September 2020 - an improvement of 40% in the past 12 months.
As you can see in the graph above, in our last five months customer satisfaction has been through the roof! More and more people are making Shockbyte their home for game servers. We achieved an average response rate of under 1 minute for our 24/7 live chat. And to top it off, our YouTube channel and Knowledgebase are filled with vast amounts of tutorials to help anybody at any time!
During March 2020 our daily tickets tripled, meaning we needed to triple the capacity of our support team - an absolutely mammoth task. Despite a temporary drop in satisfaction, we were able to quickly adapt and go on to achieve our highest customer satisfaction level ever.
These are all major improvements over the past few years. We would like to share the challenges we faced and how we were able to achieve the results of our support today.
---
Challenges We Faced
First, one thing we should take note of is that Shockbyte grew faster than expected. We saw an overwhelming amount of growth year after year. While this is a good issue to have, scalability is the great filter of business and only the best companies will prevail.
Growing Super Fast
The issue of growing so fast is that it leads to massive scalability issues. Scaling support isn't as simple as hiring more people and making everything bigger and better. We needed consistency. We had amazing staff, we just needed to develop a system that allowed them to thrive and grow with the company.
Below is a graph highlighting how fast Shockbyte grew. As you can see each year we almost double the amount of total servers activated.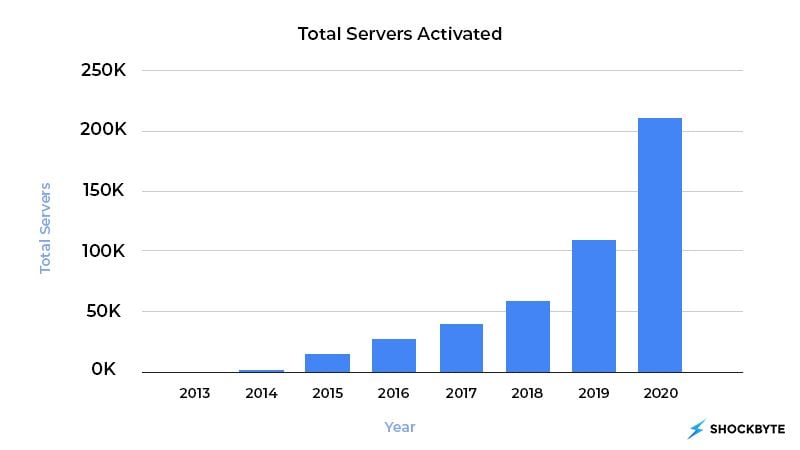 Maintaining Exceptional Support Quality
Early on, we found that it was hard to keep a consistent level of quality through every support reply we had. We had a lot of work ahead of us to get to the level of quality we are at today. Having a solid, consistent, and outstanding quality support system takes years and years of refining and development to achieve. We needed to build additional systems for our support team so they can do their best work and not be slowed down.
Taking Working at Shockbyte to The Next Level
We have had the wonderful opportunity to recruit and work alongside amazing people here at Shockbyte. They are the foundation that Shockbyte is built upon. We wanted to create a company environment that allows our employees to thrive, learn, create, share, and be the best they can.
---
How We Conquered Our Challenges
As Shockbyte quickly kept growing and expanding, we had to conquer the challenges that we were experiencing.
Employee Satisfaction Is Paramount
We wanted to incentivize our staff to do more tickets each day, consistently. So we incorporated a rewards system that rewarded staff members who addressed a lot of support tickets.
What we found was that although we provided incentives for replying to support tickets, nothing really changed. We learned that no matter what the incentive is, you should not rely on incentives for staff to do their jobs. They need to be compensated well and find intrinsic value within their job. This means they should be happy with what they do; it shouldn't require incentives to enjoy your job.
Rather than support staff being paid per ticket, we moved to hourly compensation. This was a critical change that encouraged our support team to focus precisely on each ticket. We saw a drastic improvement in our consistency of quality. We were finally able to achieve the quality we were capable of for every single ticket.
We sincerely appreciate everything that our support team does, and they should be compensated for all of their hard work and dedication. Therefore, we have increased all pay rates and ensured that our staff is paid at competitive rates. We are always looking for talented individuals to join our team! You can join our amazing team here. We offer flexible hours, performance bonuses, free services, Shockbyte merch, competitive pay, and more!
In-Depth Training Process & Staff Wiki
We developed a training process to efficiently train our new employees where they can handle a wide variety of support cases. In addition to this, we created documentation that staff can access at any time regarding any process within the company. This provided quick and easy access to crucial information that can help resolve support tickets fast.
Internal Staff Wiki
One example of the documentation we created was Support Cases. These were scenarios we highlighted and documented for staff members to refer to. Instead of having to ask another staff member what to do, they can refer to Support Cases to answer their question.
Implementing Multiple 24/7 Live Chat Platforms
Live chat was implemented on December 8th, 2017 to quickly communicate with customers about general questions.
We found that we were able to answer customers' questions that necessarily did not require a support ticket to open. For example, questions regarding payment options and our services can quickly get answered on our live chat as compared to a support ticket. This means there is more room for technical questions in our support ticket system.
However, in April 2020 we implemented a second live chat system, designed for in-depth technical & billing support, for existing customers only. This was implemented so we can provide faster support and troubleshoot complicated issues in real time.
The new technical live chat system is accessible directly from the server control panel (https://mc.shockbyte.com) - help is just a message away.
We are now proud to say that our average response time for our in-depth technical chat is under 36 minutes, and under 1 minute average response time for our original general questions chat.
Quickly Tackling Every Type of Ticket
Different teams were created for different types of tickets. Each team is responsible for a certain ticket. For instance, we have different levels of support: Level 1, Level 2, and Level 3. Each level has a different degree of complexity to it. Level 3 support has more tools and responsibilities than a Level 2 support member. The Level 3 support member focuses on the more technically complex tickets.
In addition to different levels of support, we also split based on departments (pre-sales, technical support and billing) and platforms (live chat, tickets, social media). This means there is always someone who is ready to help you out with any questions you may have.
We also have a larger billing team to handle refunds and payment questions. The team prior was extremely limited and payment-related tickets were bottlenecked by the size of the team.
Knowledge Is Everywhere
We gave more access to each of our staff members to certain tools; now, they are able to accomplish more than ever before. We also became more transparent about what is happening within the company. Every staff member can see any documentation they need to with our internal wiki and make quick edits at any time.
Self-Serve Support
We have fleshed out our Knowledgebase and YouTube channel with helpful tutorials for a wide variety of questions customers might have. We aim to create tutorials for every possible topic or question. If Timmy has a question about how to install a modpack, they can try and do it themselves by following our Knowledgebase and YouTube tutorials. This eliminates the need to even contact our support team!
Here is a video tutorial we created so you can learn how to easily and quickly setup your new Minecraft server with Shockbyte!
---
Putting Our Scalability to the Test
The solutions in place today were the result of the experience we gained from years of trial and error, through many failed experiments and continuous incremental improvement.
These solutions are designed to be scalable and give us the ability to adapt quickly to sudden increases in demand. Earlier this year, these changes were truly put to the test.
As shown in the graph below, the number of support tickets we received in March 2020 almost tripled compared to the previous month and has remained consistently high since.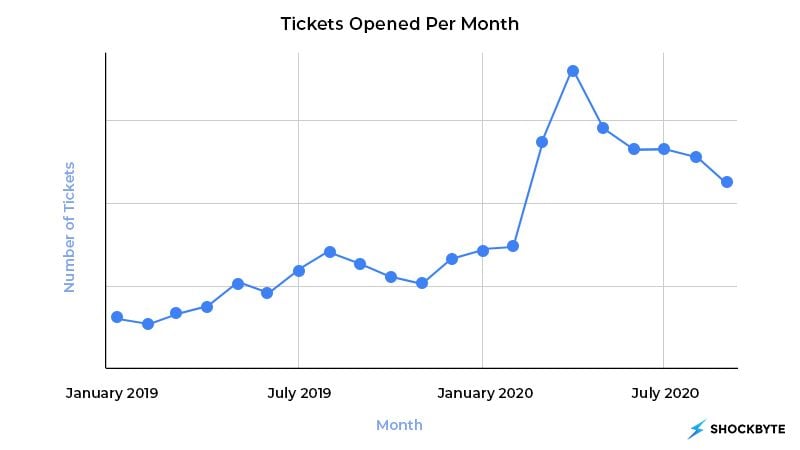 Because this increase in demand was so massive and so sudden, there was a temporary slowdown in support. However, it served as an invaluable learning experience, and really put our solutions to the test.
Thanks to the years of experience and solutions that were already in place, we were able to adapt successfully. And, despite the far greater demand, our customer satisfaction has reached unprecedented levels.
---
The Fruits of Our Labor
Today, our Support system is the strongest and most reliable it has ever been. We have noticed a significant increase in customer satisfaction and renewal rate! Meaning our customers are happier with our services and are staying with us much longer.
Our customer reviews have also significantly improved and still are! The amount of 5-star reviews is constantly increasing every single day, and we couldn't be more proud!
---
The Bright Future Ahead
What we have done has been a success and we are doubling down on everything we have implemented. We are going to: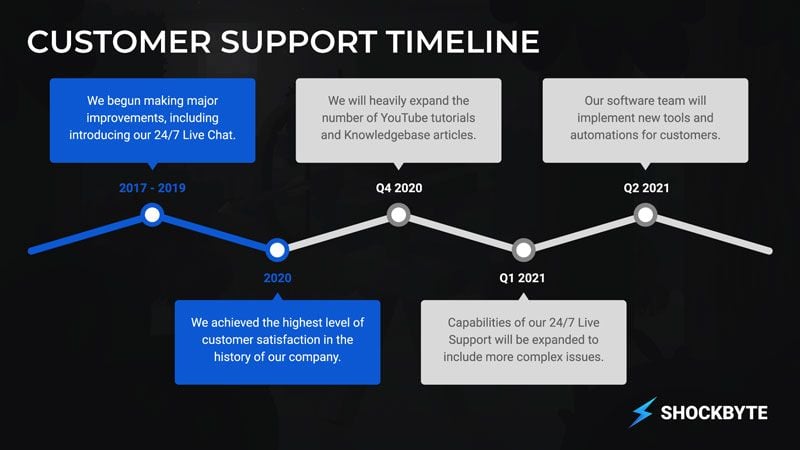 Expand Live Chat Capabilities
We want to provide higher-level support on our 24/7 live chat where we can resolve more complex issues.
Increase Self-Serve Support
We want to keep expanding our Knowledgebase and YouTube tutorials. Using these tutorials and Knowledgebase articles allow customers to quickly solve any issue independently. Please let us know of any tutorials that you want us to create!
Grow Automated Support
We want to increase the level of automation for certain services we have. For example, we plan on incorporating automatic Dedicated IP assignment. When this is automated you will instantly get your Dedicated IP without having to submit a ticket!
---
Give Us Another Shot! We Won't Let You Down.
So this is where we are today! We have come a long way as a company and are proud to be able to share what we have accomplished.
We have done so much and we want to show you! We are grateful for everybody who used our services and we thank you.
We are committed to providing high-quality customer service in an efficient and timely manner and we believe we are achieving that goal. We intend to lead the industry with the best customer service we can provide.
We are excited to experience the future with you!