Almost every summer Shockbyte encourages it's player community to ditch the summer heat in favor of some high intensity build battle competition! The summer of 2023 has been no different, with a wide plethora of talented build battle participants taking the stage and heating things up! Alongside a lobby filled with minigames, the build battle competition has promised exciting prizes such as an entire Razer gaming setup, 6 months of FREE Minecraft server hosting, a limited edition Shockbyte T-shirt, and an additional $50 in Shockbyte server credit!
The competition came out fierce, flinging TnT arrows everywhere in our Crossbow Carnage minigame, and showing off their insane Spleef skills in TnT run. Alongside their Minecraft minigame skills, players built some of the most impressive Minecraft builds all within the confines of their Minecraft plot areas surrounding the lobby. The view from the lobby is absolutely breathtaking, with Minecraft creativity as far as the world can render.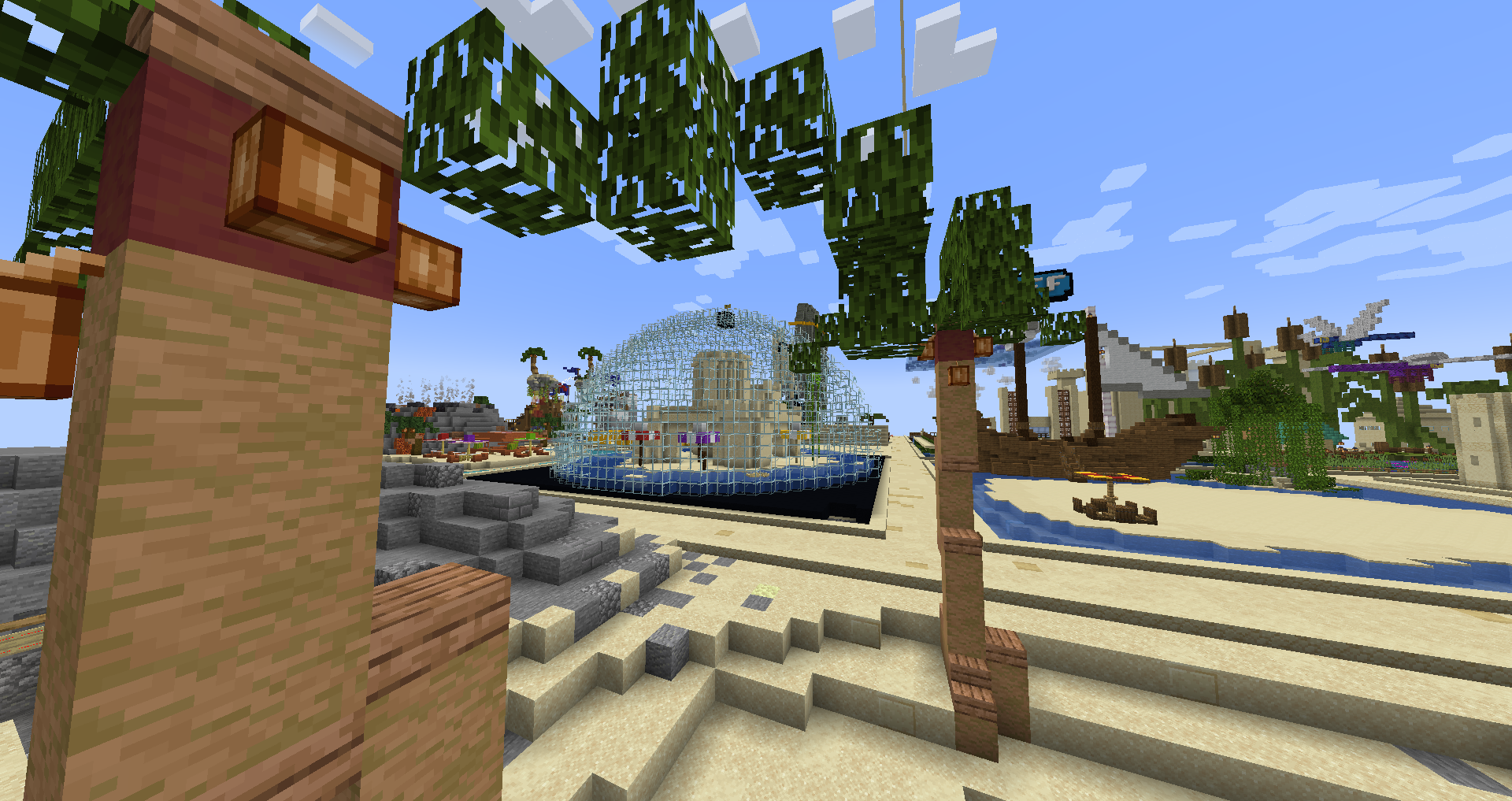 Minecraft Build Battle Server - Shockbyte Summer Event
Shockbyte by now has a history of build battle Minecraft server events, with a regular slew of talented Minecraft builders attending to reap the rewards. Our last high intensity event was our Holiday Build competition during the winter of 2022! Due to the timing of that event being winter, the theme of worldwide holidays and winter festivities made for some of the most iconic builds of the season, but this time around the theme was entirely Summer-Centric: focusing on pirates, the heat of the sun, and all things Summer!
The lobby was completely poop-decked out for the occasion with a massive Kraken reaching out of the waters below and a flying pirate ship hovering above. Only the best parkour players are able to jump from block to block and ascend the full stairs from the bottom of the Kraken's grip to the deck of the pirate ship. We even posted about the skill-based climb on our socials. With a Minecraft parkour map and a Minecraft build battle server combined, it's been an absolute blast of an event.
Build Battle Highlights
There are many highlights among the absolutely breathtaking builds in the Summer Build Battle event this time around, but a regular content creator of Shockbyte's events dedicated some real creativity towards making something extraordinary. While the grand winners have not officially been named yet, we just wanted to use this post to show a few builds that were notably amazing, although all participants who dedicated time deserve far more praise than we can provide.
One builder, R2D2VaderBeef, created an entire Volcano and hid campfires within the lava of the Volcano to give it the perfect amount of smoke, making it appear as though it would soon erupt. Alongside the ridge of the Volcano, he decorated the area with a sea-side village and a Nether portal. The cool thing is...players aren't allowed to teleport to the Nether in this build battle, so R2D2Vader built himself one on the other side, simulating a Nether of his own by walking through it! Neat!
Minecraft Build Battle Server Highlights Continued
Sometimes, master builders are able to perfectly grasp that cozy feeling and CocoaMaiden does exactly that with their Summer-swamp Dragonfly parkour course. While the name is a bit of a mouth-full, this build has got so much going on, while still keeping it incredibly simple. With unique use of Minecraft's blocks such as tall grass and brown candles, CocoaMaiden was able to perfectly recreate cattails, or better known online...the "forbidden hotdog" plants.
The whole simplistic but visually appealing scenery is also setup in perfect jumping distance from one another, forming an adorable Minecraft parkour course among the Dragonflies hovering the swamp. In the center of it all is also a cozy little shack to tie the whole build together, complete with a bed, an archery dungeon, and an explorable underground cave system because Easter eggs are awesome. It's unique Minecraft creativity like these builders that just blow our minds every time.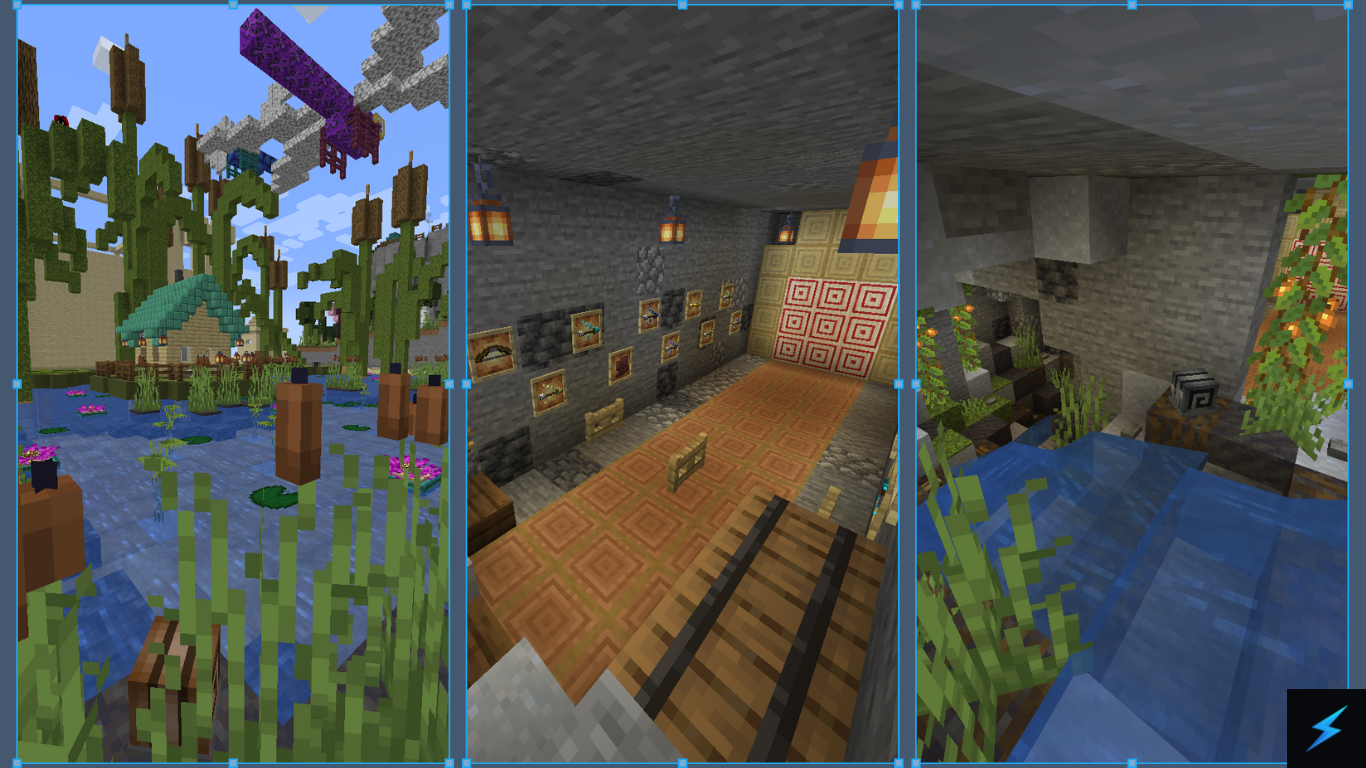 Shockbyte Minecraft Build Battle Winners
On the Shockbyte Twitter we'll be announcing the many winners of Shockbyte's build battle event, with the winner of our Category-based builders being AllDayWarrior who built an absolutely incredible Sandcastle! This monumentous sculpture is among the many incredible Sandcastle creations at our Summer build battle event but is of far larger size than the rest, showing AllDayWarrior's dedication to the build. It looks absolutely incredible, featuring lanterns, windows, and even a sand flag.
If this build battle creation doesn't make you want to go to the beach, then we aren't sure what will. While many build battle participants got extremely creative such as the other builds shown above, a masterfully executed classic can sometimes be the nostalgic heart warmer everyone loves to see. In fact, on many Minecraft build battle servers, sticking to the most iconic versions of builds is usually the best way to take home the gold. Again, thank you to everyone who has participated in this event and we look forward to seeing everyone again!
Looking for more Minecraft server ideas?
About Shockbyte
Shockbyte is a game server host for Minecraft, ARK, Rust and more.
Do you want to start your own Minecraft server? Click here to view our Minecraft server hosting plans.